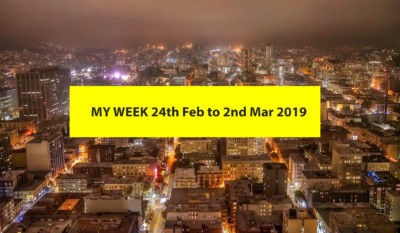 PHOTO

Capturing a morning scene where the sky appeared in intense red and orange tones, looking like a volcano eruption had happened on the horizon. Lucky, that I had my iPhone with me, I will post that photo soon.  


 
My evening schedule was watching at videos of Pavel Kaplun about picture composing in photoshop. Great source for advanced photoshop techniques.

 

IT JOB

On Monday I was at Microsoft Austria where I attended a seminar about Windows Defender ATP in Azure cloud and the Office 365 Threat protection. Also Microsoft App security was a topic. Fine presentation and a good Wiener Schnitzel for lunch. 🙂 


 

Tuesday were interesting presentations on the Fujitsu Storage Day in Vienna. All-flash storages are gathering market shares at enormous speed, no wonder with the advantages in speed, space and power consumption. 

FRIENDS

In the gym again, I met my photography friend, where we discussed about the Leica M cameras. He is now also thinking about buying a M.

With my friend Christian, who is also one of my technical consultants, I discussed about a photo weekend in Lower Austria. There we would start drone flying together, he with his Mavic Air and I with my DJI Phantom 4 Pro. He will also test his brand new Nikon Z6. 

READING

Reading the book of bodybuilder Dorian Yates "From the shadow". The first book, which I read physically for a long time. 
Also reading the last pages of photographer Stephan Wiesner's autobiography on Kindle.

 

MOVIES

The whole family jumped on board with the Netflix series "Dirty John". My daughter was the fastest, finished all 8 episodes within 3 days, although she goes working and studies by the way. I would rate it 9/10.

 

SPORT

Today on Saturday, I am ready to go to Top Gym Vienna with my younger son Maro. I will have chest and back workout, 8-12 reps, in controlled manner, followed by 20 minutes cardio on the stair stepper.