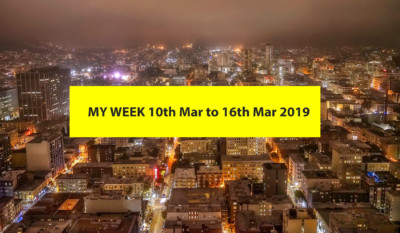 PHOTO

I continued to watch the photo manual of Max Rive Photography on my iPad. He shows very interesting technics of lightning and contrast tools in Photoshop. With the time I will start to add those technics to my post processing workflow.

I looked after the website of the Leica Park in Wetzlar Germany. Although it's a 8 hour drive from Vienna, I am thinking about to visit in early April. Since my wife Karin and my daughter and my son Maro will attend, we can share the driver.

 

IT JOB

The proposals for the new data center setup are now completed. The latest appliances were a Riverbed Steelhead for WAN acceleration and a Riverbed Shark for network traffic analysis.


 

On Thursday I was invited to a F5 presentation in Cafe Landtmann. F5 has changed from a classical load balancer to an advanced network security device with nex gen firewalls, Bot-prevention and authentication portal.

FRIENDS

In the gym my photography friend, was thinking about buying a Leica M9. We discussed of different options, and then he thought about the new upcoming Zeiss full-frame compact camera.

My wife Karin was with her girlfriend Margit in a spa for 2 days. So I had more time, to deep-dive into photography post processing.

READING

Continue reading the book of bodybuilder Dorian Yates "From the shadow". The first book, which I read physically for a long time.

I thought of buying the book "You", the source of the Netflix series. But too many negative comments, which stated that the book is boring for many sections, prevented me from buying it. 

 

MOVIES

I continued with the new season of the Italian series "Suburra". Only one episode this week.

After a recommendation from my wife, I started with the series The Widow. A wife, which is played by Kate Beckinsale, searches after her allegedly dead husband in Kongo. A refreshing scenery, most of the movie is filmed in Africa.

SPORT

A harder cold had hit me for two days, which meant lying in bed for some time. My first training day after recuperation was on Friday with biceps, triceps and shoulder accompanied by 20 minutes on the stationary "Android"-powered biked, which has a screen where you could watch Youtube or surf the web.